The coastal plains of Florida are facing serious threat from a large Red Tide bloom which has not been seen for almost a decade.
The Red Tide is posing devastating infestation on the marine life of Florida. The incoming tide has already claimed lives of thousands of fish in the Gulf of Mexico and it is now reported to be closing in on the coast. The Red tide bloom is expected to wash ashore striking the mainland in around two weeks.
According to the Florida Fish and Wildlife Commission, the bloom is spread about 80 miles in length and approx 50 miles in width in Gulf of Mexico but presently the tide is from 40 to 90 miles offshore.
Picture of the Gulf of Mexico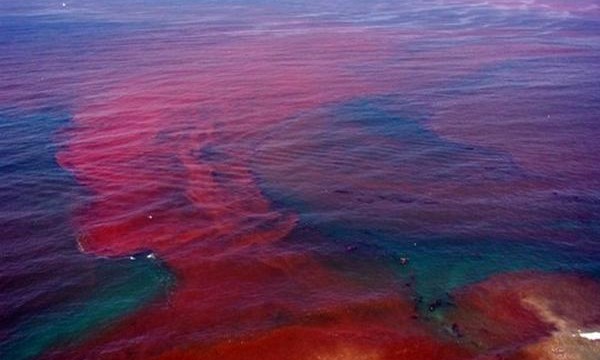 The Florida FWCC has counted more than 700 dead fish as a result of the red tide since July 24, all occurring on the west coast of Florida.
Surface water temperatures have been warmer in the area over the past week, according to AccuWeather.com Expert Meteorologist Dan Kottlowski, which is a contributing factor to the outbreak.
"It could have large impacts if it were to move inshore. It has been killing a lot of marine species, especially fish, as it waits offshore," Brandon Basino, spokesman for the Florida Fish and Wildlife Conservation Commission (FWC), said.
Some have said that it is a sign of end times, others have different ideas.
What do you think? Comment below.